From AMLopedia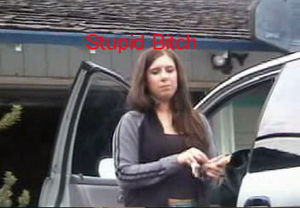 Christa (born 1986) is Marcus' fucked up half-sister. She is Adam's age. She has had about a jillion different boyfriends and they were all douches. She liked to get drunk starting at the age of 14, and brag about how she met the biggest drug dealer in Portland at a club. She was honestly the lowest form of life imaginable. However, Adam and Liam thought she was entertaining and would listen to her tell her stupid stories about how she liked to go shopping. Whenever she was interrupted during these stories, she would always yell her signature catchphrase "Okay, BACK TO ME!"
Marcus and Christa had a relationship filled with hate. They were always fighting. One memorable conversation went like this:
Marcus: WELL WHY DON'T YOU GO JACK OFF, YOU BITCH!
Christa: I CAN'T, I DON'T HAVE A DICK!
Marcus: WELL, THEN STICK A FINGER IN YOUR PUSS!

This was in front of Adam and Liam who were laughing the entire time.
Eventually Christa got fat and pregnant.
In June 2006 she came into Hollywood Video where Adam was working and revealed that she had her baby and is now doing fine.