From AMLopedia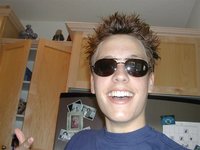 Adam Luchini (born July 29, 1986) is the A in AML. He is a graduate of Clackamas High School.
Adam was born in Eugene, Oregon, and at the age of 4 he moved to Sylvan Meadows, the first member of AML to move to the neighborhood. However, in October 2003 he moved "half a mile away" to a new house. On January 20, 2006, he moved out of his house and into the Cockhouse.
Adam's education history is quite interesting. He started his college career at Oregon State University as a freshman. After one year, he left and switched to Portland State University. He stayed for one quarter before enrolling at Clackamas Community College. He then dropped out of Clackamas Community College because he became a father. This continues to haunt Adam to this day although it is assumed that he will still achieve great fame and prominence.
Adam is best known for his sense of humor and charming good looks.
Trivia
For a while, he had a non-severe heart condition that he had to take medicine for. When giving excuses, the most used one was "I have a bad heart!"
When he was younger, he loved Boris from the movie Goldeneye, and would frequently stand around yelling "I am invincible!"
Has an intense hate for microwaves. This can be seen in his 2005 movie, The Mean Microwave.
Loves the movie Back to the Future and its sequels.
For some reason, he used to use DCEmail, a free e-mail source for people from Washington DC, as his e-mail client. He was probably the only person to ever use that.
Nicknames
jigz - When Adam was bowling with JJ Berry and Kyle McDaniel, his bowling name was going to be "jizz", but Kyle spelled it wrong, so his name was "jigz". The name stuck.
folex - From a game of Perfect Dark.
A-train - Adam's nickname during racquetball.
A-day - Somehow short for Adam.