From AMLopedia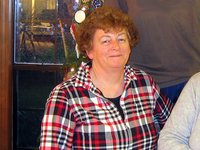 Cathy Green (born June 21, 1950) is the mother of Liam and unfortunate wife of Jay Rosen. She was born in Ireland and came into the United States when she was about 12 years old. She grew up in Newark, California, and went to Cal State: Hayward for a semester before dropping out and moving to Europe. She enjoys quilting, reading, and is known by the AML crew as the best cookie-maker ever.
She lied about her age to Liam until he was 15 years old. He thought she was 14 years younger than she actually is.
Adam spells her name Kathy to make Liam mad.