From AMLopedia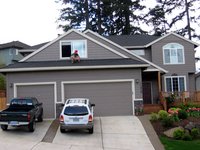 Adam's New House is located around Spring Mountain Elementary, on Mountain Gate Road. The Luchini Family has lived there from 2003 to present. One day, Adam was suddenly informed that their whole family was moving half a mile away, from Adam's Old House.
As soon as Adam moved in, he resented the new house, even though it had better architecture and was much bigger than his old one. This is the location of many shots filmed for AML 2.
On January 20, 2006, Adam moved out of this house and into the Cockhouse.